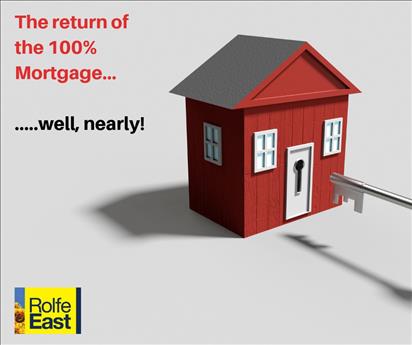 …..well, nearly!
Most agents as long in the tooth as I would be able to recollect previous times when 100% (or even higher, 'tis true!) mortgages were associated with property markets in steep ascendency and lenders feeling that such loans were secure and that lending offered little risk. The same commentators would probably also note that the lenders then over-lent and the market crashed for some reason, leaving buyers in negative equity, unable to move, or possibly (even worse) at risk of repossession after a rise in mortgage rate after their initial fixed period and no products available for them to remortgage to.
It seems strange, in today's precarious (at best) London market that, low and behold, 100% mortgages are back...…But re-imagined with a sensible twist!
if your family e.g bank of mum and dad are happy to deposit 10% of your purchase price into a 3 year, high-interest (2.5%AER) savings account with Lloyds then, subject to their usual lending criteria, you can borrow 100% of the purchase price fixed at 2.99% for 3 years. As long as you pay your mortgage faithfully, after 3 years, they get their money back plus the interest and that's it as far as their involvement in your affairs go, with you moving on to a traditional mortgage arrangement. Hopefully, seeing as now could be a wise time to buy (prices down and attractive interest rates), over the course of the 3 years, buyers will have developed an amount of equity and are thus eligible for the more attractive mortgage deals available on the market.
For those with stable employment and reliable income, this seems like a pretty good plan. Step up First-time buyers, enough with renting, its time to get buying! And that's coming from a me, a Landlord!