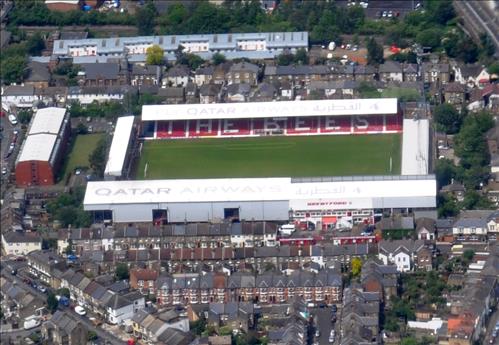 Brentford FC, affectionately nicknamed "The Bees" have been an important part of the community for well over a century, starting out as they did way back in 1889. Rolfe East's relationship with the club a long time ago now, we've seen the team have a lot of success, in recent years with promotion to the Championship (2014), which is the second highest division of the English football league system.
Since Rolfe East work with a lot of developers in the West London area, as the Official Estate Agent
Partner of Brentford we are the agent of choice. We regularly help Brentford players, staff and supporters to find new homes, sell up, rent new properties – basically all things property!
With The Bees preparing to make a move from current ground Griffin Park to the new Brentford Community Stadium, where construction broke ground just last month, Rolfe East have been helping and advising on the property side of things. Once the move is completed, projected late 2019, there will be room for a further more supporters!
Our new homes director Robert Barrett has been attending matches since 1968, and says "Brentford is very much a community club, and they bring a huge amount to the area. In all my years as a supporter, the club has maintained an extremely family friendly atmosphere, and The Bees are just a great team to be associated with!"
Rolfe East have presented the Player of the Year awards for the last three years, which has consistently been a brilliant and joyous event for all involved. Talking of success, The Bees have a run of six games unbeaten in the league, and with just three games left in the season, we are believing in the team to put in some great performances and make the Play-Offs!