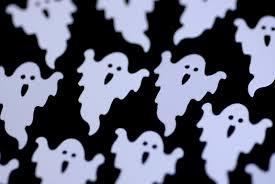 No, in this case I'm not talking about spirits or apparitions, I will stay respectfully well away from that subject, I am referring to those figures that exist in the real (property) world.
The practice is known as "ghost-listing" – which is illegal under the Consumer Protection from Unfair Trading Regulations 2008 – and always appears more prevalently when estate agents don't have enough stock; and due to current market conditions clear sightings are certainly on the rise.
Essentially, ghost-listing is where unscrupulous agents list the property of others or other stock already let or sold; for example, they might actually only have 10 available but list 40 on Rightmove or Zoopla. They may also be desperate enough to approach landlords and say they can achieve ridiculously high rental fees but then, of course, nothing happens as they haven't got the database of tenants. However, when the landlord tries to disinstruct them, all of a sudden an immediate offer comes to light at the asking price.
The system is also known in the industry as "bait and switch"; the definition of which is "a fraudulent advertising claim or sales offer for a product or service that is not available or not for sale at the stated price, made with the intention of luring customers who are then offered something else or forced to spend more money to get the same thing".
A demonstration of this would be where three different properties are marketed on a website, all in different locations, and all using the same set of photographs.
The issue, aside from being immoral and illegal, is that if someone is induced to see a property that doesn't exist they may be so frantic by that point they'll take an inferior option; and one they would never normally have taken or be prepared to pay too much money for it.
Zoopla and Rightmove – in response to calls they should be doing more to prevent "rogue-listing" and weed out fakes – say they are "always looking to tackle the issue and to make sure their records are updated as soon and as accurately as they can"…but clearly not as well as they should be doing.
So, how do you exorcise these ghosts? Well, the safest way to ensure that you don't get spooked is simply to instruct a professional, genuine, local and independent company; and one that belongs to the Association of Residential Letting Agents (ARLA), National Association of Estate Agents (NAEA), and The Property Ombudsman (TPO).
"Who you gonna call?!..."