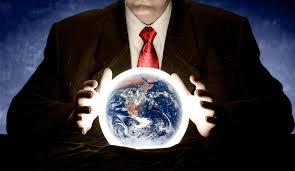 Home and property owners are always nervously on the look out from being "zapped" by the latest news on when interest rates will rise. So, looking into my crystal ball again, I can tell you all to relax because you will be shock free of an increase for quite a fair while yet.
The mystic ball hasn't let me down before. I looked into its mist and said as much in my first post of the New Year, in our magazine called "New Year, New Opportunities", and I have in subsequent articles throughout the year, where I argued that the rates would remain static and they have.
There are good reasons to have faith in me and the outlook once again, due to the recent figures released by the Office for National Statistics (ONS). These show that "mild" deflation continues, with the cost of living falling again, and economists – and Mystic Ashley! – predicting that there will be no move on interest rates until late 2016. Indeed, many are going further, suggesting that there may be no change for the whole of next year, following the latest Bank of England inflation report.
Economics is never an exact science, but if you look at certain facts it does stack up:
In 2014 the increase in Gross Domestic Product (GDP) registered at 2.9%, this rate became 2.4% in 2015 and in 2016 it is likely to slip a little further.
The world economic stage, of course, does have major influences here and – as we know and terribly – there is conflict in many places, so there is naturally a slow down in developing nations.
Weak global growth and productivity, deflation and excessive debt are the prime concerns, so interest rate increases – both here and in the US – are further off than consensus previously thought.
The banks continue to charge 2 to 2.5% above the base rate for mortgages, whereas traditionally they charge as little as 0.5%. Why would the BoE vote for a rise with inflation at 0% and concerns the recovery could still be knocked off course? However, the good news for borrowers is that any increase of BoE base rate could easily be absorbed by a squeeze in the banks margins.
So, to summarise…Inflation, growth and GDP is low. The base rate will only go up when these do. Rates will have to remain the same or low (definitely no hikes!) and, mentioned in the last bullet point above, shock absorbers for borrowers have been built in anyway!