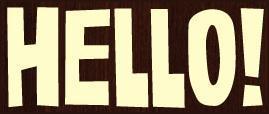 If someone said this to you I imagine you would be put on your guard, at least I hope so! You certainly don't have to adopt a generally mistrustful attitude to life but, unfortunately, it pays to be a little wary these days; especially with regards to parting with rent in advance or something as highly costly as buying or selling a property.
You may have read about a case in the media recently, concerning Max and Penny Hastings, who (still!) own a £1.3m house in west London. It seems barely believable but, essentially, a woman genuinely thought that she had bought their property. This is because she had handed over a cheque for the whole amount, secured the keys, booked builders to install a new kitchen and even received planning consent for alterations. Furthermore, the utility companies had even opened accounts in her name. The understandably startled and worried Hastings only found about the "sale" after having received an email from a solicitor asking some questions, whereby the whole plot then unravelled.
This is rather an extreme example of an elaborate scam and major fraud, with the poor woman having been duped into handing over cash to the "vendor" and all her money last seen on its way to a bank in Dubai. However, property fraud in lesser forms is an increasingly common problem, so much so that Land Registry has created an online service to provide alerts. The service, aptly called Property Alerts, is free and open to the public, offering peace of mind for anyone who feels that a registered property could be at risk from fraud. To read further details and to register simply go to https://propertyalert.landregistry.gov.uk
This story is not meant to frighten unduly, simply to highlight the fact that we know of agents who claim to be on registers and make other exaggerated claims and you need to be alert to this and check are true. It could prove extremely costly otherwise.
Of course, there is a way of ensuring that you don't hand over rents and deposits to the wrong person and guarantee the agent and the vendor are exactly who they claim to be.
This is to choose truly professional agent who has…
Qualified, helpful and knowledgeable people who you can speak to at well-established offices.
Built a strong and trustworthy reputation over more than 30 years and are a local and independent company.
Full membership of the Association of Residential Letting Agents (ARLA), National Association of Estate Agents (NAEA), and The Property Ombudsman (TPO).
"Hello, we are Rolfe East, how may we help you…?"