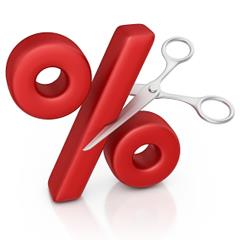 It's not long ago that the Monetary Policy Committee surprised us all (most media commentators included) by voting to hold interest rates at the same level post-Brexit. At the time there was limited economic data on the immediate impact of the vote to leave the EU, and this was the MPC's stated reason for not acting as expected. Now that more economic data and predictions are available, the MPC voted unanimously in favour of reducing the interest rate to 0.25%. If a potential rise in interest rates was holding buyers back from taking advantage of record low rates, perhaps now is the time to repeat (as I have done for some time now) that interest rates are going to remain low for quite some time.
The meeting minutes leading to this decision show uncertainty over the economic outlook for the UK, though it would be fair to say that the Bank of England in general did take the view that leaving the EU would be bad for the UK economy, so there may be some slant toward the negative outcomes since the vote.
In real terms, this reduction should mean a saving of on average £22 per month for those with a variable rate mortgage. Hardly likely to make enough of a change to your finances to get you spending wildly and giving the economic boost that those in power are looking for, but a welcome saving nonetheless.
Savers will be disappointed by the decision, as it marks a continuation of ever-decreasing rates and in this year for every 1 interest rate that increased, another 9 decreased. It's simply the case now that savings are unlikely to keep pace with inflation, and maybe now an opportunity to take advantage instead of cheap borrowing. I anticipate that we could see mortgage products with as low as 1-1.5% interest rates, and with the BoE committed to a plan of keeping interest rates low this presents a better way to invest money. Mortgage rates are hitting record lows, and a record 1,282 mortgage products are offered with no fee, according to "MoneyFacts".
We are anticipating that these factors are likely to boost confidence in the property market in general, and so would encourage those with savings to act and investigate better ways to invest. At Rolfe East, members of our team have to make the same decisions as you about investment, pensions and retirement, so come in and chat with us about how property could play a role in your future.